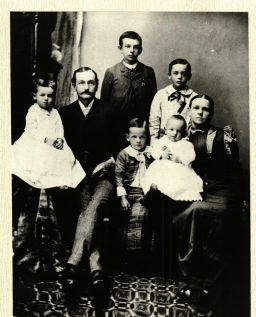 Joseph Murphy Scruggs was born in Missouri in 1849. He is pictured here with his wife, Susan Baker, and five of their children. The photo dates to about 1891.
Welcome!
Welcome to the website for the Scruggs and Hovis families in Alberta. There are two separate trees and all members from the marriage of Joseph Murphy Scruggs and Clarise Ruth Hovis to the present time are listed on this site. In fact, they are listed twice, since the databases for the Scruggs was uploaded separately from the database for the Hovis family. Much of the Hovis data was researched and compiled by Ray and Bea Wickens of Calgary. Pictured on this page are the parents of Joe and Clarise. Work on their ancestors is ongoing; it is hoped that this branch of our family can fit into a tree of other ancestors from pre-Alberta-days. This website is still under construction. Corrections and suggestions welcome!! Terri Scruggs, June 2017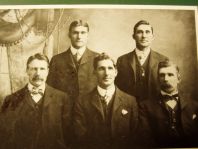 Martin Luther Hovis was born in Pennsylvania in 1870. He is pictured here with his four brothers: John, Walter, Clinton and James.
Top 100 Surnames in Our Family Tree